Hard work, dedication, family values, and integrity are the cornerstone of our strong family-run (owned and operated) business. Our loyal, friendly, and professional staff (team) truly enjoy coming to work every day.
Hard Work
We love what we do and it shows!!! We know that great employees/team members will result in truly satisfied customers who are successful in their businesses! It is a win-win for everyone!!!
Dedication
Based in Indiantown, Florida, M.J.S. Materials, Inc. has become the premier and preferred sand and rock hauler for builders, contractors, sub-contractors, site/land developers, architects, and homeowners for over a quarter of a century.
Experience
Our vast experience and knowledge coupled with close and personal attention to detail, have made us a highly recognized leader in our industry. Whether you order rock, sand, or gravel, we know how critical and vital time is in the dispatching and delivery of your orders…TIME IS OF THE ESSENCE!!!
Appreciate Our Loyal Customers
We pride ourselves on our commitment to superior customer service. We have long and successful partnerships with our loyal clients. Our high caliber staff keeps our "wheels turning" and your business thriving!!!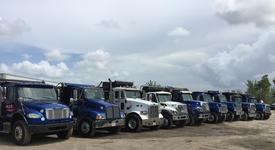 Products/Materials
Mason Sand
Gunite/Paver Sand
Lawn Sand
Septic Sand
Stucco Sand
Float Finish Stucco Sand
Washed Sand
And More…